For our members with larger businesses we offer this interest-bearing account that gives plenty of convenience while helping increase your bottom line. Our competitive rates will earn you dividends from the get go, and our fair prices will save you money.
Plus, if you maintain an average monthly balance of $10,000 or a business loan balance of $25,000 or more, you can avoid paying the $15 monthly service fee. Open a Business Checking Plus account today at any of our branches or call us at (866) 585-7628 for more information.
Opens a New Window.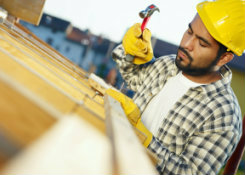 Summary
Dividend-bearing business checking account
Up to 200 free checks written per statement cycle
A $0.30 fee applies for each check thereafter
Free first order of checks (up to $100)
Free MasterCard® debit or ATM card
Free mobile banking
Free eStatements
Free 24-hour S.M.A.R.T Line Telephone Banking System
Payment processing solutions available
ACH and wire services available
Only $10.00 minimum deposit to open
Take a look at our current rates.
The Unlawful Internet Gambling Enforcement Act, signed into law in 2006, prohibits any person engaged in the business of betting or wagering (as defined in the Act) from knowingly accepting payments in connection with the participation of another person in unlawful Internet gambling. The Department of the Treasury and the Federal Reserve Board have issued a joint final rule, Regulation GG, to implement this Act.
As defined Regulation GG, unlawful Internet gambling means to "place, receive or otherwise knowingly transmit a bet or wager by any means which involves the use, at least in part, of the Internet where such bet or wager is unlawful under any applicable Federal or State law in the State or Tribal lands in which the bet or wager is initiated, received or otherwise made". As a member of St. Mary's Credit Union, these restricted transactions are prohibited from being processed through your account or banking relationship with us. If you do engage in an Internet gambling business and open a new account with us, we will ask that you provide evidence of your legal capacity to do so.