St. Mary's Credit Union News & Information
Here's to the Next Chapter!
SMCU has pledged a $100,000 donation to the City of Marlborough Public Library Foundation capital campaign to raise funds for the renovation and expansion of the library. We recently presented our 2023 commitment of $10,000 members of the Marlborough Public Library Foundation (MPLF) which will be applied to the Foundation's goal of raising $2 million for the project!
Pictured during the ceremonial presentation of the check are from left MLPF members; Dave Verrico, Sara Belisle and Janice Merk, SMCU President & CEO Larissa Thurston, SMCU Assist. Branch Manager Kristen Palumbo and SMCU EVP & COO Jim Petkewich.
The expanded library will be able to provide optimal space for children & teens, seniors, and the community at large. Equally important is the library will be fully handicapped accessible. SMCU is honored to be able to give back to our community at this caliber.

SMCU donates $15,000 to Provision Ministry
We are proud to support our community and make a lasting impact to those who mean most to us. Provision Ministry receives donations from corporations across the nation to divide & distribute to other nonprofits throughout Massachusetts & surrounding states. Local recipients include the food banks in Framingham, Marlborough and Worcester, along with the Hudson Public School System, Tricord Transitional Housing in Northborough, Grace Church Outreach Programs in Hudson, Worcester Clearway Clinic, and many other local nonprofits that serve the homeless, veterans, low-income families/children and immigrants and refugees.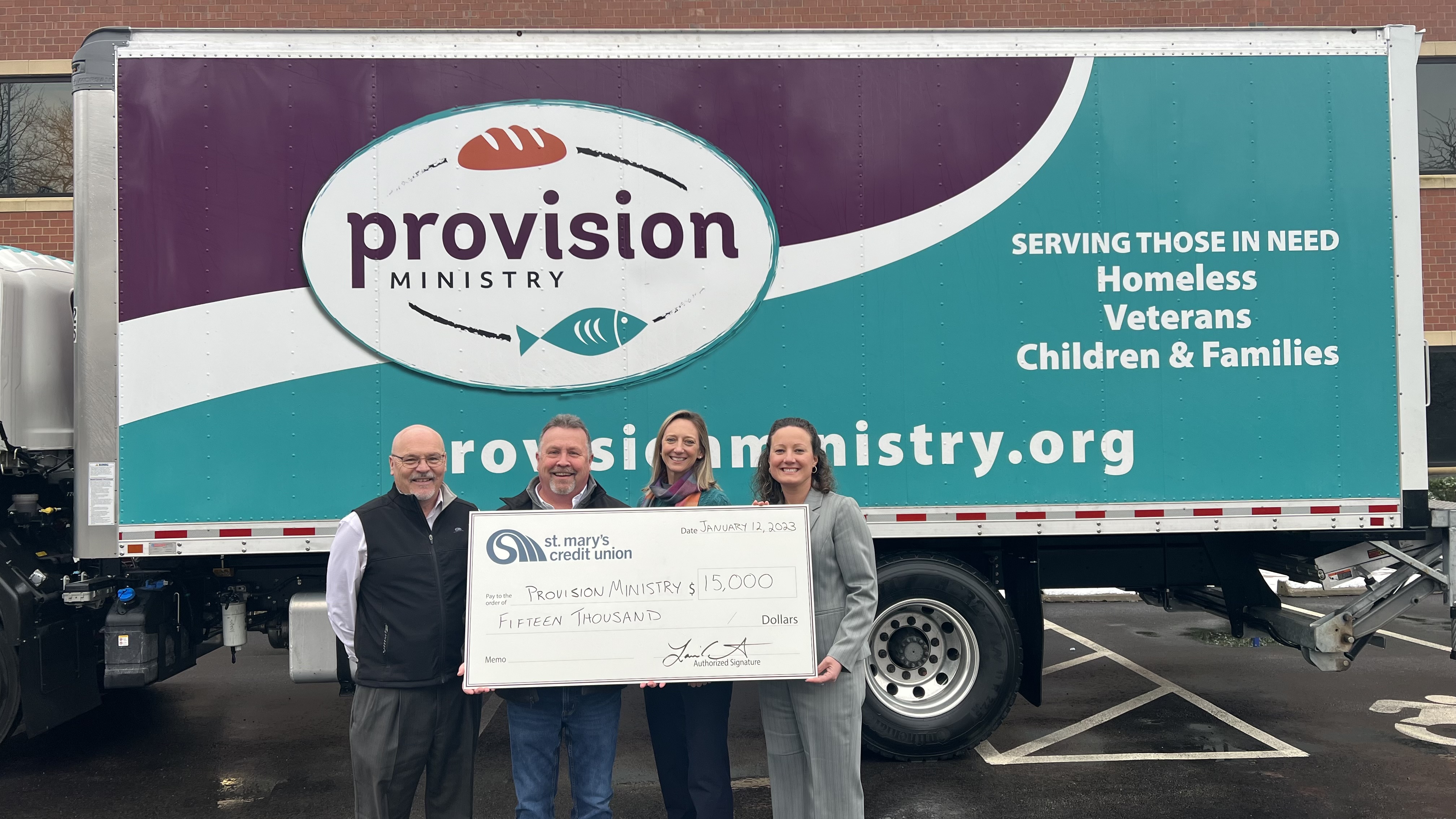 SMCU Supports Marlborough Hospital
SMCU is proud to support UMass Memorial-Marlborough Hospital's Behavioral Health Unit. These funds will be used to purchase additional materials for pediatric patients, telehealth equipment and improvements to the physical environment where the outpatient programs are held.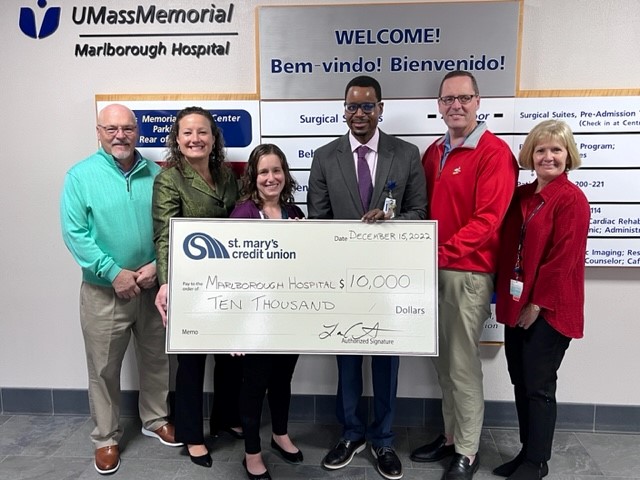 The Evening of Giving
For more than 30 years The Evening of Giving has been the event of the year that brings the Marlborough community together for the benefit of Roland's House, a temporary emergency shelter located in Marlborough. St. Mary's Credit Union has been a sponsor and active participant in The Evening of Giving since its inception in 1990. 2023 it is back after a 3 year pause due to the pandemic. Members of SMCU's management team presented Bob Kays, Evening of Giving Chairperson, with a donation to Roland's House for $3,500.00. We are honored to continue our support for an organization that aids those in need and to recognize The Evening of Giving team for their tremendous work for so many years.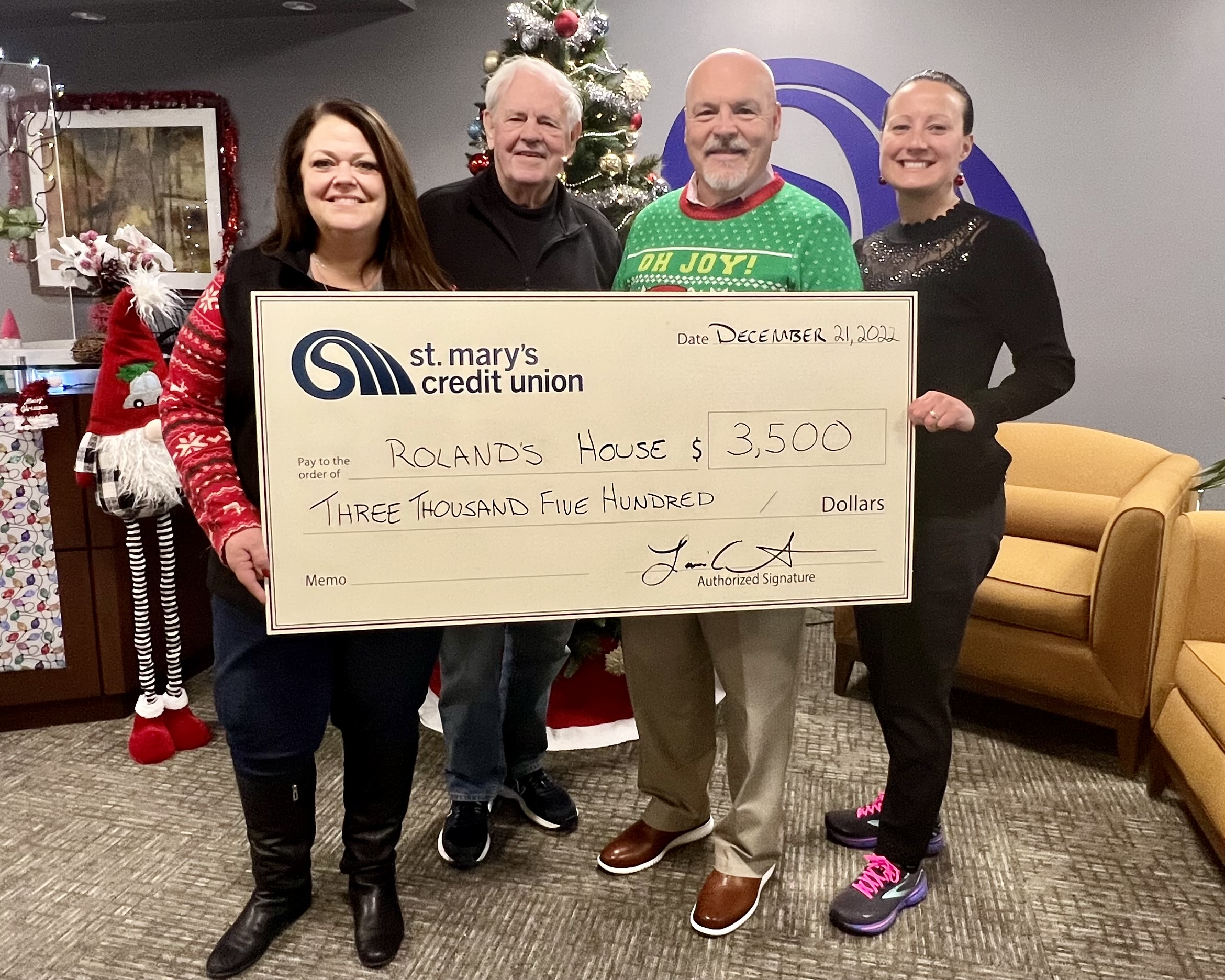 A Day to Benefit Veterans
SMCU is known for positively impacting our community. That's why we are a proud supporter of A Day to Benefit Veterans, where 100% of proceeds raised go to local veterans fighting visible and invisible wounds of war.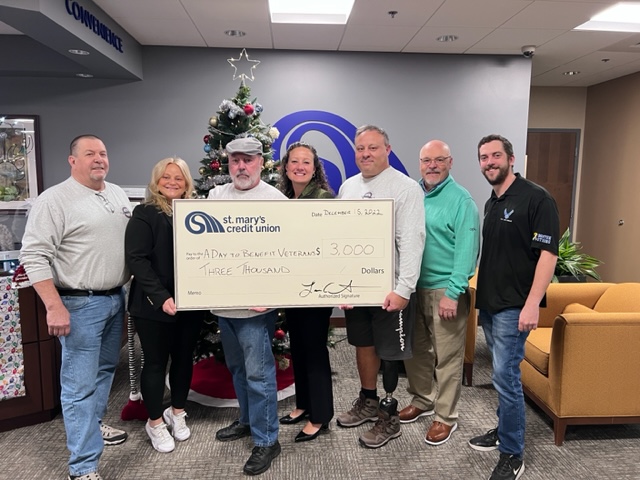 Hope for the Holidays
SMCU joined the United Way of Tri-County Hope for the Holidays drive. The drive focuses on helping local children of struggling families. St. Mary's Credit Union sponsored over 60 children by purchasing gifts from their wish lists. With the help of our wonderful employees who have volunteered to shop, our tree was full. We are grateful to be able to help our communities during the holiday season.