Designed specifically for your device, our FREE SMCU Mobile Banking app for tablets has been optimized to give you the best banking experience at your fingertips. The app is a secure and user-friendly way for you to view balances, transfer funds, deposit checks, pay bills, and more.
Whether you're at home or on the go, our SMCU Mobile Banking app for tablets app offers you a fast and convenient way to manage your accounts. Just download the app to get started today!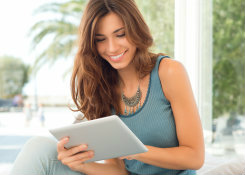 Summary
Check account balances
Review recent account activity
Transfer money between accounts
Deposit checks with Mobile Deposit
View, schedule and edit bill payments
Locate branches and ATMs
FAQs
How do I get the Tablet Banking app?
Simply visit the SMCU Tablet Banking download page in iTunes or Google Play. Follow the download directions to add the app to your tablet device.
How does the Tablet Banking app work?
Once you download SMCU Tablet, log in with the same user ID and password that you use for Online Banking. No separate or different registration is required.
Which accounts can I access using the SMCU Tablet app?
You can access any account you have set up in Online Banking. You select which accounts you want to access using Mobile Banking during the enrollment process.
Is the SMCU Tablet app secure?
St. Mary's Credit Union employs industry best practices with regards to security. Our SMCU Tablet has been assessed against industry security criteria by a number of independent system security experts. To protect your privacy, you are required to authenticate yourself using the same information from Online Banking whenever you sign into the SMCU Tablet app. All transactions within the SMCU Tablet app are encrypted and none of your files with personal or financial information are saved on your tablet. This information stays strictly within Online Banking.
What if my tablet is lost or stolen?
If your tablet is lost or stolen, no one can access your account without knowing your password and your unique user name. To prevent unauthorized access to your account, you can deactivate your tablet in Online Banking.
What is the difference between the SMCU Mobile App and the SMCU Tablet App?
Our Tablet Banking app has been optimized to fit the screen of a tablet.