Online Banking offers the convenience of accessing your accounts and making transactions 24 hours a day from anywhere that has a secure Internet connection. Every transaction is as safe and secure as it would be in one of our actual branches.
Banking and paying your bills online is safer than sending and receiving paper checks and statements in the mail. And it also saves you time and money, because this useful service is completely free for our members. Click on the Register link to enroll today!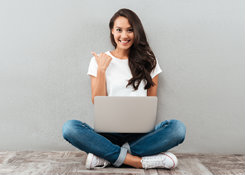 Summary
A FREE convenience service for our members
View account balances, transfer funds, and more!
Bill Pay - pay bills faster and safer with this free service*
Guard Your Card - freeze and unfreeze your debit/ATM card anytime of the day or night for greater security and peace-of-mind
Manage My Money - create a budget, savings goals and categorize your spending
Transfer Options - perform bank-to-bank or member-to-member transfers easily and securely
Alerts - allow you to monitor your accounts more closely with text and email alerts
Theme Switcher - customize the look and feel of your Online Banking experience
*Bill payment services are only available on checking accounts. Money market and savings accounts are not eligible for bill payments.