Sign up to receive free electronic replicas of your paper statements! Our eStatements greatly reduce the risk of identity theft by eliminating the possibility of your financial information getting lost or stolen in the mail.
eStatements are also quite convenient because they provide an organized, easy to search online history of account transactions and check images at your fingertips. They also minimize paper consumption, saving trees and reducing your carbon footprint.
Want to reconcile your eStatement against your records? Use our disclosure and account reconcilement form.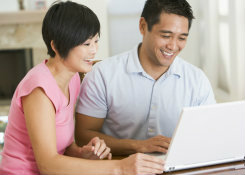 Summary
Free, secure and easy to access 24/7
Safer and quicker than statements in the mail
Safe access only through online banking
All your account information at your fingertips
More secure and eco-friendly than paper statements
Printable, with front and back images of all of your checks
Access up to 24 months account history online
Signing up is easy. Simply log in to Online Banking to get started today.
If you have any questions about eStatements, please feel free to contact our Member Service Center at (866) 585-7628, or read the FAQs on the next tab.
FAQs
How do I sign up for eStatements?
Make sure your email address is up to date within Online Banking. You can update this by visiting the Banking Service Center and clicking the "Change Email Address" link. Then, simply log in to Online Banking and enroll your accounts by clicking "eDocuments" under the Accounts tab.
Which accounts can receive eStatements?
eStatements are available for deposit accounts (excluding passbook and CD's) and for loans that produce a monthly bill.
How do I access my eStatements?
When your monthly eStatement is available, you will receive an email alert. Simply login to Online Banking and select the eDocuments link under the Accounts tab.
Can eStatement availability alerts be sent to more than one email address?
No. For security and privacy, eStatement alerts can only be sent to one email address.
Is there a fee for eStatements?
No. eStatements are FREE!
Are eStatements safe and secure?
Yes. eStatements reside on our secure, highly-encrypted servers and are only accessible by entering your personal user ID and password. Plus, they reduce the risk of identity theft through stolen paper statements.
Can I choose any date to receive eStatements?
Currently, no. Your eStatement will be available at the same time as your current paper statement.
How many months of eStatement history will be available?
When you enroll for eStatements, your history will begin to build each month until you have at least 24 months of eStatements.
Are eStatements available for business accounts?
Yes.
What if I need a copy of one of my checks? Can I view and print my checks with eStatements?
Yes.
Will eStatements look the same as paper statements?
Yes, eStatements are identical to paper statements.
If I am unable to print my eStatement, how can I get a copy?
Contact our Member Service Center at (866) 585.7628 and they will be happy to provide you with a copy.
What should I do if I want to change back to paper statements?
If for any reason you wish to revert back to paper statements, simply contact the Member Service Center at (866) 585.7628.
Can all of my accounts be combined into one eStatement or will I have separate eStatements for each of my accounts?
If your deposit accounts are currently combined on your paper statement, you will receive combined deposit account eStatements. Uncombined accounts will have separate eStatements. If you wish to combine your deposit accounts, please contact the Member Service Center at (866) 585.7628.
If I have more questions, who can I contact?
If you have questions about eStatements, our Member Service Center and our branch Member Service Representatives will be happy to assist you. Simply call us at (866) 585.7628 or visit any branch today.