St. Mary's Credit Union is part of two surcharge-free ATM networks. The CO-OP Network and the SUM Network both provide free and convenient ATM access.
In addition to the 7,500 SUM Network ATMs, members can also use more than 30,000 CO-OP Network ATM's nationwide. CO-OP ATMs are located at participating credit unions as well as at a variety of retail outlets, including select Costco®, Walgreens, Dunkin Donuts, and 7-Eleven® locations. It's easy to find the nearest location. You can search for them online, call 1-888-SITE-CO-OP (888-748-3266), text a street address, zip code or "City State" to 692667 (my coop), or download the FREE CO-OP mobile app for Androids and iPhones:
Download the iPhone app
Download the Android app
You can also download the FREE SUM ATM locator for your iPhone or Android or search for them online.
If you are concerned about a lost or stolen card, please contact us immediately at (800) 472-3272.
If you would like to activate a new debit or ATM card, or select a new PIN, please call (800) 992-3808.
Download the Debit Card Guide to Benefits here (as of July 1, 2019)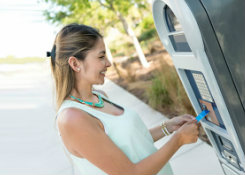 Summary
Use this card to make purchases anywhere the MasterCard® logo is displayed at millions of places in the U.S. and abroad. Unlike a credit card, the funds come directly out of your checking account when you make a purchase.
Use it to make cash withdrawals at ATM machines
No annual fee
No transaction fees
Accepted worldwide
Cash back feature
Easier than writing a check
Monthly checking statement shows all your transactions
Track your purchases 24-hours a day with our SMART Line Telephone Banking system or through Online Banking
ATM Card
Our regular ATM Card is available with a statement savings or checking account and it can be used at ATMs for cash withdrawals and inquiries. Our ATM cards can be used surcharge-free at any ATMs displaying the CO-OP and SUM™ network logos.
Fraud Protection
At St. Mary's Credit Union, keeping your accounts and your identity secure are of the utmost importance. That's why we sometimes place blocks on particular merchants or locations where high levels of fraudulent activity are reported. We work closely with MasterCard to monitor current fraud patterns and add or remove blocks as these patterns change.
Currently, we are blocking signature-based debit card transactions in several states that are reporting high levels of fraudulent activity. You may still use your debit card in these states, but instead of signing your name you must enter your PIN to complete a transaction. Several international blocks are also in place at this time.
If you are planning to use your St. Mary's Credit Union debit card outside of Massachusetts or if you are traveling abroad, please call us at 866-585-SMCU to learn if a block is in effect for the area that you will be visiting.
Debit Card Fraud Texting Notifications
In February we will be introducing FREE interactive text alerts to protect your debit card from fraud. If we detect suspicious activity, you will receive a text message with details about the transaction. Simply respond to the text message "YES" to confirm the charge was authorized or "NO" to let us know the charge was NOT authorized.
You can update or add your cell phone number via Banking Services in Online or Mobile Banking, calling our member service center at 866-585-7628 or by visiting any of our convenient branch locations.
Click here for our Frequently Asked Questions