Home Equity Lines and Loans
A home equity line or loan is a smart choice when you want to finance a large expense at a low interest rate. If you need to consolidate debt, make home improvements, or pay for college or medical expenses, tapping into the dormant equity in your home can help you get the funding that you need.
A home equity line of credit has a variable interest rate and comes with checks, so you can use these funds whenever you need. In comparison, a home equity loan delivers the entire amount of the loan in one lump sum up front, and the interest rate is fixed for the life of the loan. Talk to a Lending Specialist today at (866) 585-7628 and find out which option is the best for your needs and budget.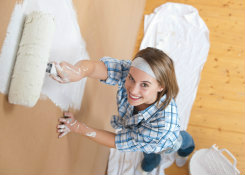 Home Equity Lines of Credit
If you need to access cash quickly for a large purchase or unexpected expense, a home equity line of credit lets you get the money you need without having to reapply every time you need it. Put your home's equity to work for you!
GREAT RATES - Prime Rate as published in the Wall Street Journal minus 50 basis points (.50) for the life of the loan, subject to minimum interest rate of 3.25% and maximum rate of 12.00%.
Ideal for immediate cash needs
Convenience checks to use as needed
Only pay interest on what you use
Re-use as needed without re-applying
Competitive variable interest rate
Home Equity Loans
Use funds for any purpose
Receive money up front as a lump sum
Low, fixed rate for the term of the loan
Flexible terms and affordable payments
Local decision-making
Interest may be tax deductible*
Check out our current rates.