Bank your way with St. Mary's Credit Union. Our Gateway Youth Checking is specially-designed for young adults ages 16 to 22 — this free account has everything you need to get started on the right foot!
You'll enjoy perks such as reimbursements on ATM fees from other financial institutions (up to $15 monthly!) with no minimum balance requirements. Plus, you'll have a variety of free convenient services to help you simplify your banking — including on-the-go mobile banking, mobile deposit, and more. Stay on top of your finances with Gateway Youth Checking, and open your account today!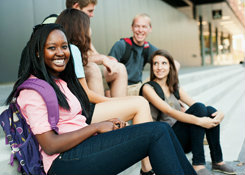 *Gateway Youth Checking account is limited to one account per eligible member. Account requires a parent or legal guardian as a joint account holder if the primary account holder is under age 18. Must be at least 18 years old to open an account online.