View all posts
Why Choose a Credit Union Rather Than a Bank?
07/27/2021
By: St. Mary's Credit Union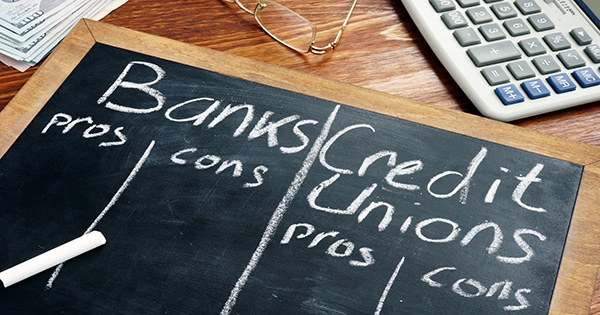 If you need to open a checking account, finance your college education, purchase a car or buy your first home, you'll want to work with an institution that can help you achieve your goals. With so many options available, it can be hard to choose a lender. However, the type of institution you join could ultimately determine whether you get competitive rates, better loan terms, and personalized attention.
So, who should you trust to help you meet your personal and professional goals? Most individuals choose to join a bank or a credit union, and both offer many of the same products and services; however, there are some major differences between the two.
What is a Credit Union, Anyway?
Credit unions are cooperative financial institutions owned and operated by their members. Credit union membership in the United States continues to grow. In 2013, there were 98.4 million members nationwide, and by 2020 this number rose to 126.6 million, according to Statista. There are more than 6,000 credit unions in the United States, and 159 credit unions with headquarters in Massachusetts alone.
Who Can Join a Credit Union?
Joining a credit union is easy, and you don't need to be a union member to join one. Some credit unions only serve specific groups such as public sector employees, the military, members of a faith-based community, or members within the field of membership that includes specific cities and towns. No matter what population a particular credit union serves, its goal is to pool members' funds together to mutually benefit its members and its community.
Anyone who lives, works or attends school in Middlesex, Worcester, Norfolk, or Suffolk County in Massachusetts is eligible to join St. Mary's Credit Union. You can also become a member if you are a relative of an existing member, no matter where you live. Once you open a savings account with $10, you are considered a member. Having established your membership, you remain a member as long as you maintain $10 in your membership account, even if you move or change jobs outside of the regional area.
Do Credit Unions Offer What Banks Do?
Like banks, credit unions allow you to open personal checking and savings accounts, business checking accounts, and offer a variety of personal, residential and business loans. A majority also offers online and mobile banking, and service members at a variety of branch and ATM locations. Many credit unions often use a shared ATM network that allows members to use national ATMs with no ATM service fees. Best of all, credit unions typically provide webinars and educational programs for members looking to boost their credit to qualify for a home mortgage, plan for college, or save for retirement.
Credit Union vs. a Bank
If credit unions have so much in common with banks, what advantages do they offer customers like you?
At most banks, you are one of many customers and have little say over how capital in your community is invested. After all, banks exist to make profits for their shareholders. Oftentimes bank customers pay extra fees on products such as auto loans and mortgages, to ensure shareholder profits.
On the other hand, credit unions are not-for-profit organizations, run by their members. As a member, you own a share in the organization and a stake in your credit union's investments and services. This allows a credit union, like SMCU, for example, to pass its profits right back to our members in the form of lower interest rates, reduced fees, and better customer service.
Below is a quick breakdown that details the major differences—including the advantages and disadvantages--between banks and credit unions.
Chart: Bank vs. Credit Union: a Quick Breakdown
Bank

Credit Union

Ownership

For-profit

Goal is to make a profit for shareholders.

Not for-profit

As a not-for-profit, credit unions are generally exempt from federal taxes. This means credit unions do not have to worry about making profits for shareholders. Instead, credit unions can focus on returning profits to members through lower interest rates and less fees.

Membership

Anyone can join; open to a variety of customers.

Need to meet membership provisions which may be restricted by region, group affiliation, or location of employment.

Geographic reach

Depending upon whether you join a local, regional or national bank, you may have access to more branches and ATM services nationally.

Some credit unions may have a smaller geographic footprint, which could limit the number of branches and ATMs available to you.

SMCU offers access to more than 30,000 fee-free ATMs nationwide to its members.

Product mix

Checking accounts

Savings accounts

Money market accounts

Certificates of deposit (CDs)

Business bank accounts

Home loans (including purchase loans and refinancing)

Auto loans for new and used vehicles (including motorcycle and RV loans)

Land and construction loans

Checking accounts

Savings accounts

Money market accounts

Certificates of deposit (CDs)

Business bank accounts

Home loans (including purchase loans and refinancing)

Auto loans for new and used vehicles (including motorcycle and RV loans)

Land and construction loans

*Many credit unions offer the same type of products as banks!

Insurance

Banks are typically insured by the Federal Deposit Insurance Corporation (FDIC).

FDIC deposit insurance protects bank customers should an FDIC-insured depository institution fail.

Deposits are insured up to at least $250,000 per depositor, per FDIC-insured bank, per ownership category.

Federal credit unions (and some state credit unions, SMCU being one of them) are insured by the National Credit Union Administration via the National Credit Union Share Insurance Fund. The Share Insurance Fund insures individual accounts up to $250,000 and separately protects IRA and Keogh retirement accounts up to $250,000.

*Money at SMCU is also fully insured above the federal insurance of $250,000 by the Massachusetts Credit Union Share Insurance Corporation (MSIC.)

Additional fees

Some banks require customers to keep a minimum monthly balance in their checking accounts, make a minimum number of transactions each month, and use direct deposit to avoid monthly service fees. Many also charge customers when they use ATM services at other banks.

Credit unions typically offer checking accounts that require no minimum balance, come with no monthly fee, and include free debit cards and other perks.



SMCU offers free ATM refunds, free digital banking, or no fees or minimum balance requirements with either it's On the Go Checking or No Fee Checking Accounts.

Loan rates

Banks typically charge slightly higher interest rates on financial products such as auto loans, mortgages, and credit cards.

For the most recent snapshot of the rate differences between banks and credit unions see: National Credit Union Administration

Generally, credit unions offer lower loan rates and higher savings rates. For the most recent snapshot of the rate differences between banks and credit unions see: National Credit Union Administration
Here are a few more reasons why a credit union might be right for you.
Credit Unions are easier to join than you may think. At SMCU, you can open a checking or a savings account online in as little as 10 minutes. Or you can stop into any of our seven branch locations today with a valid U.S. picture ID and we'll get a new account opened for you in no time.
Credit Unions offer personalized service. At SMCU, we strive to get to know our members, whether they prefer to access services online or in person.
Our branches are here for our members for both appointments and walk-in service—for banking, mortgages, or vehicle loans. We encourage continued use of our drive-up windows for basic transactions and appointments for lobby service to minimize wait times for assistance.
You can contact our Member Solutions Center at 508-490-8000 or 866-585-7628 Monday–Friday from 8 a.m. to 7 p.m. and on Saturdays, 8 a.m. to 1 p.m. Our team will answer any questions you may have related to your accounts. If you need to schedule an appointment at a branch location, please contact our Member Solutions Center at 508-490-8000 to make those arrangements.
Credit Unions promote a community spirit. From $10,000 in donations to local food pantries to a $35,000 donation to MetroWest Boys and Girls Club, as well as community events like free shredding days for its members, SMCU gives back throughout the year.
Credit unions offer plenty of advantages over large national banks. But don't take our word for it.
"If you aren't raving about your bank, try St. Mary's Credit Union. This is why I switched all of my banking to St. Mary's." -Larry D, member, St. Mary's Credit Union