View all posts
How to Set Up Direct Deposit and Its Benefits
04/21/2021
By: St. Mary's CU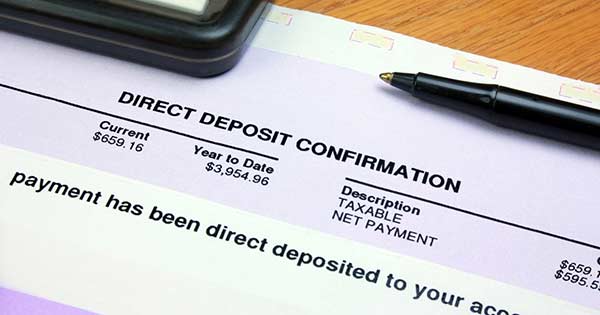 Depositing your paycheck, Social Security benefits, and other recurring payments once required a visit to your nearest St. Mary's Credit Union branch or ATM. Today, direct deposit makes it easy to automatically receive these payments in your checking or savings account without leaving home. If your busy schedule leaves little time for a trip to one of our Middlesex, Worcester, Norfolk, or Suffolk County branches, learn how to set up direct deposit to save time and effort today.
Why Choose Direct Deposit?
Our members choose direct deposit for many reasons, but getting paid up to two days early, along with convenience, are the chief reasons among them. Direct deposit allows you to effortlessly receive funds via electronic transfers. This is especially valuable to members with packed professional and personal schedules. Other reasons to choose direct deposit include:
Security: Unlike cash or a check, an electronic payment cannot be stolen or altered. Direct deposits are among the most secure methods for receiving funds.
Fast: Payments by direct deposit are more quickly accessible than paper checks. At St. Mary's Credit Union, you may even be able to receive your funds up to two days early (not all direct deposits will qualify).
Flexible: You may split funds between multiple accounts, enabling easy, consistent contributions to savings and retirement accounts.
Waste-free: By eliminating printed checks and mailing envelopes, you can help cut back on paper waste. You'll also have less paperwork to keep in physical files, reducing clutter.
Setting Up Direct Deposit for Your Paycheck
To begin direct deposit for your paycheck, request a form from your employer. Many employers provide this form at the time of hiring, but you can set up direct deposit at any time. Gather the following information to complete the form:
Your account number(s)
Our routing number: 211384214
The type(s) of account(s), such as checking or savings
The mailing address of your preferred St. Mary's Credit Union location
The account holder's name
Your mailing address
Your social security number
Forms may vary by employer, and you may also be asked to provide a voided check. This verifies your account and routing numbers, confirming the provided information is accurate. If your employer does not offer a form, you may still set up direct deposit by requesting one from St. Mary's Credit Union.
Direct Deposit for Social Security and Other Payers
Establishing direct deposit for Social Security is just as easy as doing so for a paycheck. Benefits recipients may elect to receive payments via direct deposit at the time of enrollment, and you may update your preferences if you currently receive funds via check. The Social Security Administration (SSA) offers several ways to set up direct deposit, including:
Online signup via GoDirect®
Calling GoDirect® at 800-333-1795
Calling your local Social Security office
If you prefer, you may also visit St. Mary's Credit Union. One of our friendly representatives will walk you through the process and help you begin receiving funds automatically.
Signup varies by other payers, but in general, a similar process applies. Additionally, you may always set up direct deposit via your nearest St. Mary's Credit Union location.
Learn More about Direct Deposit at St. Mary's Credit Union
Eliminate an errand from your to-do list by setting up direct deposit for your paychecks, Social Security benefits, and more. To learn more about direct deposit for our members in Middlesex, Worcester, Norfolk, and Suffolk Counties, contact St. Mary's Credit Union today. We offer a wide range of services to help our members achieve their financial goals and make money management easy.