View all posts
Understanding Mortgage Interest Rates In MA
12/08/2020
By: St Mary's CU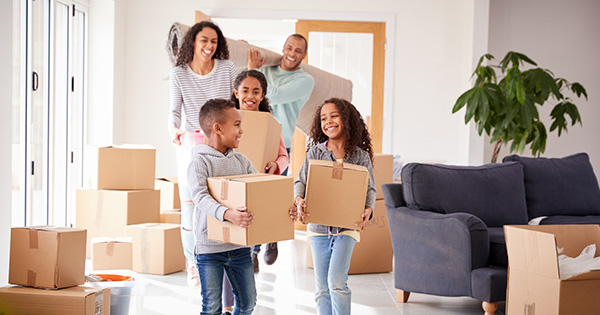 A home is likely the largest investment you'll ever make and one of the most exciting. Yet before deciding which neighborhoods you like best and how many bedrooms you need, take a moment to think about another important concern: mortgage interest. Most future homeowners will rely on loans to help pay for their new houses, and there's a lot to learn before borrowing. Find out how much mortgage you can afford with interest tips from St. Mary's Credit Union.
Mortgage Interest Basics
In addition to repaying a mortgage's principal, or the amount of money borrowed, you will also be responsible for interest. Interest is a pre-determined percentage of the balance of the mortgage to compensate the lender for the use of their funds. The amount of interest paid depends on the rate you agree to at the time of your loan and the type of mortgage you have.
How Interest Rates are Set
Markets are among the most significant influences on mortgage rates. A strong stock market, high inflation, and low unemployment signal to lenders that the economy can support slightly higher rates than usual. Rates tend to run low when the opposite is true.
Even more important, however, is your financial situation. Lending institutions weigh the following factors in setting interest rates:
Credit score
Debt repayment history, judgments, outstanding collections, and existing debts
Size of your down payment
Loan type, term, and amount
Property Type (single family owner occupied, multifamily, condo, investment)
In general, borrowers with poor credit, or a high loan to value, can anticipate higher mortgage interest rates. You may also expect higher rates on larger loans.
Fixed Vs. Adjustable Rates
You may have heard the terms fixed- and adjustable-rate mortgage. Each type offers pros and cons, and borrowers must consider carefully which is right for them.
Fixed-Rate Mortgage: Interest remains the same for the life of your loan unless you choose to refinance.
Adjustable-Rate Mortgage (ARM): Interest can increase or decrease in response to changes in national and global markets. Most ARMs begin with a period of fixed interest before fluctuating within a predetermined frequency, such as once annually.
ARMs can be a good choice for those with more flexible budgets who are willing to take a chance on lower future interest rates. However, rates can rise rapidly, and a fixed-rate mortgage removes the chance of a higher monthly payment than you can afford.
Mortgage Pre-Qualification
It's easy to think you know your budget intuitively, but interest, taxes, and other fees may be quite different than imagined. To begin your home search with realistic expectations and confidence in your ability to make offers, make sure to get pre-qualified.
When you apply for pre-qualification, a St. Mary's Credit Union loan officer will review your financial information and determine the mortgage amount you're most likely to be approved for. You'll receive a pre-qualification letter that shows sellers you're serious about buying a home, and you can proceed with a clear idea of potential interest rates and how much mortgage you can afford.
Learn More about Mortgage Interest Rates
When buying a home, don't let questions about mortgage interest rates hold you back. St. Mary's Credit Union has helped hundreds of Massachusetts homeowners in Middlesex, Worcester, Norfolk, and Suffolk Counties find the right loans to buy the properties of their dreams. Contact us to learn more about pre-qualification, or apply online today to get started.