Give your business a boost of convenience! Sign up to receive FREE electronic statements! eStatements are more secure than paper statements, reducing the risk of identity theft. Plus, you will have faster online access anytime, from anywhere.
eStatements keep your business accounts organized, with an online history of transactions and check images. And without having to deal with paper statements, you'll save filing time and will keep your desk neat. Sign up today under the "Options" tab in Online Banking.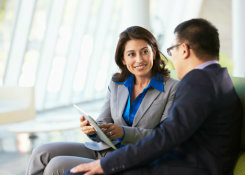 Summary
Free and easy to read
Safer and quicker than statements in the mail
Safe access only through Online Banking
All your account information at your fingertips
Environmentally friendly, paperless option
Printable, with front and back images of all of your checks
Access up to 13 months account history online
Signing up is easy. Just log in to online banking and click "Options" to enroll.
If you have any questions about eStatements, please feel free to contact our Member Service Center at (866) 585-7628.