Commercial Real Estate Loans
A commercial real estate loan can help you purchase, refinance, or renovate any business space, including office buildings, apartment complexes, retail centers, warehouses, manufacturing buildings, medical buildings and commercial condominiums.
Our loan decisions are made locally for fast results. And you'll enjoy our expert, personalized service throughout the life of your loan. Come by today or call us at (866) 585-7628 and let us help you with your commercial real estate needs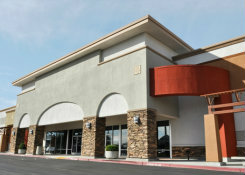 Summary
Purchase existing buildings or land to develop
Owner-occupied or investment properties
Use for refinancing (with cash out if needed)
Renovate or expand your existing space
Competitive rates
Low monthly payments
Up to 80% financing and 25 year amortization periods
Money provided as upfront lump sum
Flexible down payments
Local decision-making
Courteous, personal service
Ready to apply? Use this convenient Business Loan Application and Personal Financial Statement documents.