When you're looking for financing for your business, you have important decisions to make. Big banks may have the right products, but not the continued service that you need. With smaller banks you may end up with cookie-cutter loans that don't really fit your business' needs. St. Mary's Credit Union gives you the best of both worlds.
We offer a wide-range of lending programs for your business, with competitive rates and affordable payments, and the exceptional service, attention, and flexibility you need to make your business grow and thrive. Call us at (866) 585-7628 today to get started.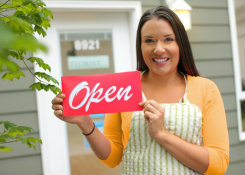 Summary
Get what you need to help your business thrive
Money provided as upfront lump sum
Competitive rates and a variety of terms
Flexible repayment schedules
A variety of loan programs available
Business lines of credit available
Local decision-making and servicing
Professional, personalized service you know and trust
Ready to apply? Use this convenient Business Loan Application and Personal Financial Statement documents.