Visa Credit Cards
St. Mary's CU offers a variety of personal and business Visa® credit cards, each with specific rewards and benefits. Our cards are accepted worldwide, and give you purchasing power wherever you go.
Take a look at our different programs and find out the one that best fits your needs and lifestyle. We offer competitive rates, low to no annual fees, and some of the best rewards programs around.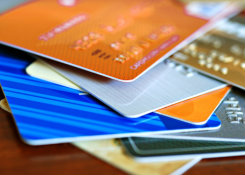 Summary

Competitively low rates
Low to no annual fees
Make purchases virtually anytime, anywhere
Five great credit cards to choose from:
Visa® Bonus Rewards Card
Visa® Bonus Rewards PLUS Card
Visa® Platinum Card
College Rewards Visa®
Secured Visa® Card
A number of benefits available specific to each card:
Promotional APR
Cash back and travel opportunities
Gift cards and merchandise
Establish or re-establish credit history
24 hour Cardmember Service
Visa Zero Liability program
Verified by Visa® protection
Auto Rental Collision Damage Waiver
Easily replaced if lost or stolen

Have questions? Need help?

We also offer Visa&reg Business Credit Cards.

Get more information about our each of our Visa personal credit cards, or call our Cardmember Service Center at (800) 558-3424.